Educate!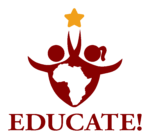 Long Business Description:
Educate! tackles youth unemployment by reforming what schools teach and how they teach it, so that students in Africa have the skills to start businesses, get jobs and drive development in their communities. Our model is delivered through practically-trained teachers and empowered youth mentors. Educate!'s goal is to make this practical, skills-based model part of national education systems.
Educate! believes that by transforming secondary education we can equip youth with the skills to disrupt the systemic problem of youth unemployment.
By creating a new educational model that reforms what schools teach and how they teach it, Educate! is empowering teachers and youth mentors to equip students with the skills to drive measurable change. Educate!'s experiential model teaches the "hard skills" of business including planning, budgeting, savings and market research. Educate! complements these skills with the "soft skills" demanded most by both employers and students themselves, such as teamwork, public speaking, networking, critical thinking, self-confidence and creativity.