Children's Museum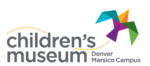 Business Name:
Children's Museum
Long Business Description:
Our mission is to create extraordinary experiences that champion the wonder and joy of childhood. Our Museum exists to support children and the adults who love and teach them, to make sense of the world, to integrate new information with prior knowledge and organize it into meaningful understandings.
Building on what we know about play and its potential to enhance a child's development, the Museum's exhibits are rich with open-ended materials and opportunities for children to create, invent, solve problems and tell their own stories. Our goal is to create a space that acknowledges, celebrates and extends the wealth of abilities and potential that young children possess.