Denver Museum of Natural History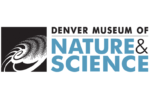 Business Name:
Denver Museum of Natural History
Long Business Description:
The Denver Museum of Nature & Science has become a renowned museum because of the tireless commitment of its staff, volunteers, members, donors, guests, and the citizens of Colorado, fulfilling our founders' dream of creating "one of the great entertaining and educational institutions of the country."
Active science takes place at the Museum every day. Our curators, collections managers, archivists, conservators, librarians, researchers, and lab assistants—along with 600 volunteers—are not only responsible for conducting research but also creating opportunities for citizens to become actively involved in science. The education staff creates compelling programs and experiences for millions of guests and schoolchildren that inspire a passion for exploring and understanding our natural and cultural world.