Community Service

925 S. Niagara St. Ste. 200 Denver CO
80246
– The African Community Center of Denver welcomes refugees who have fled persecution and have been granted third country resettlement through UNHCR and the U.S. State Department. Refugees come to Colorado from all regions of the world. ACC welcomes people from all over the globe.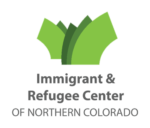 3001 8th Ave Suite 170
Evans, Colorado
80620
Immigrant Refugee Center of Northern Colorado
MAKING NORTHERN COLORADO A HOME FOR ALL WHO LIVE HERE.
It doesn't matter the circumstances that brought you here today; what matters is that you are here now. IRCNOCO is here to help you find your way. We want to be the doorway through which cross-cultural sharing and experiences occur. Whether you are new to this area or you are a part of the receiving community, we want to be your resource for information and services related to moving our community forward together. Through information sharing, dialogue, and events where we can all come together as one, we are investing into our shared prosperity.
6925 E. Tennesee Ave #250 Denver CO
Colorado African Organization (CAO) is a local home for an international community. We work with partners to support refugees, asylum-seekers, and immigrants on their paths toward self-sufficiency, integration, and freedom. At CAO, our approach to client engagement and service delivery is unique in the breadth of support it offers. Within the greater landscape of lay health workers that are culturally and linguistically appropriate, our model combines community engagement with holistic case management to support successful integration over time.