Good Morning with Dr. Laurie Marker
April 1 @ 10:00 am

-

12:00 pm

$10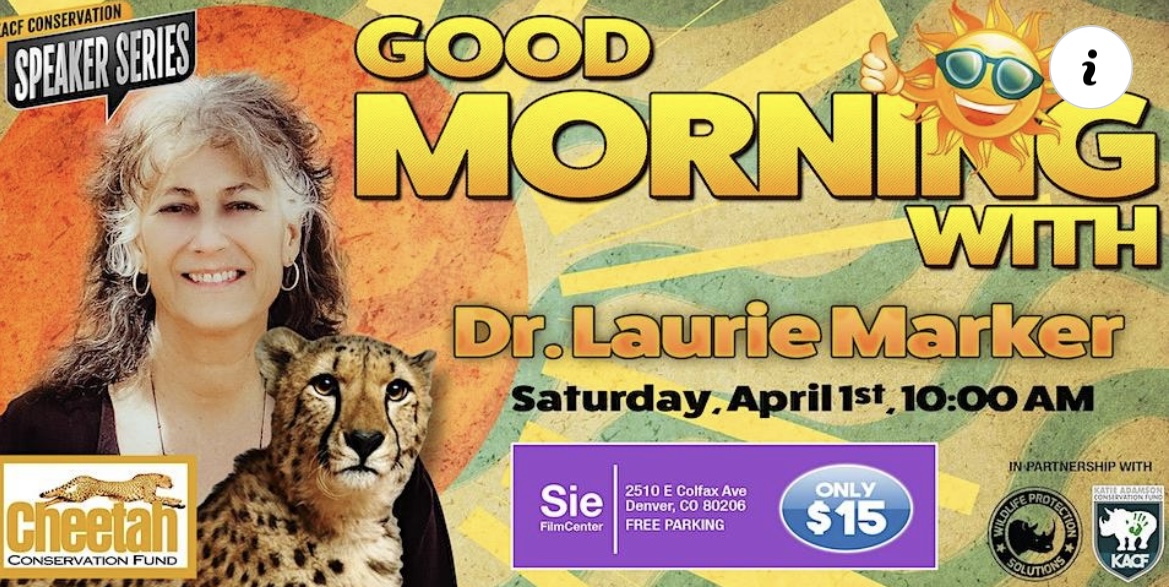 Dr. Laurie Marker, Founder and Executive Director of the Cheetah Conservation Fund in Otjiwarongo, Namibia, joins the Katie Adamson Conservation Fund for our Speaker Series. Founded in Namibia in 1990, Cheetah Conservation Fund (CCF) is dedicated to saving the cheetah in the wild.
CCF's mission is to be the internationally recognized center of excellence in the conservation of cheetahs and their ecosystems. CCF will work with all stakeholders to develop best practices in research, education, and land use to benefit all species, including people.
Before becoming Executive Director of Cheetah Conservation Fund (CCF) in 1990, Dr. Laurie Marker began her career working with cheetahs at Wildlife Safari, a wildlife park in the United States. She first traveled to South West Africa (now Namibia) while conducting research into the rewilding of captive-born cheetahs.
Dr. Marker's research proved that cheetahs held in captivity could be taught to hunt but, more importantly, it was during this time she discovered livestock farmers were killing wild cheetah by the hundreds. Without intervention, the future of the species would be in jeopardy. For this reason, Dr. Marker decided to found CCF and move to Namibia.
Cheetah Conservation Fund's holistic conservation strategy is the key to success in saving the cheetah and its ecosystem. CCF works to develop best practices that benefit the entire ecosystem upon which the cheetah depends. CCF's programs address the concerns for wildlife populations and the human communities that share the landscape.