African Market Baskets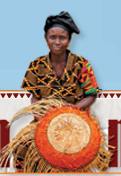 Business Name:
African Market Baskets
Long Business Description:
Bolgatanga is the largest town in the Upper East region of Ghana, about 20 miles South of the Burkina Faso border and very close to the edge of the Sahara Desert. The sun roasts the villages of northern Ghana year round, except during the 2-3 months of rainy season when it rains, rains, rains. The people living there are traditionally farmers and herdsman, but with its variable climate farming is very difficult. Local women supplement the family income by weaving the baskets we refer to as Bolga baskets which are hand-woven using locally-grown straw.