Ethiopian Food Truck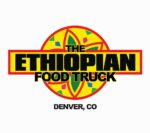 Business Name:
Ethiopian Food Truck
Long Business Description:
The Ethiopian Food Truck is the FIRST and ONLY Ethiopian Food Truck in Colorado serving traditional recipes fresh and quick all over Denver and Surrounding areas.  The Health, Savory, and Authentic menu features some of the most popular Ethiopian vegetarian dishes and made to order chicken/beef tibs options.
Long time friends Fetien Gebre-Michael and Yoseph Assefa started to The Ethiopian Food Truck to share the food they love and grew up on.  Fetien and Yoseph are both Ethiopian but bring a very diverse professional background and experiences.  Fetien started and has been operating Konjo Catering since 2014, a well know Ethiopian catering business and Yoseph brings over 10 years of vast event production and marketing back ground.
The Denver Community has welcomed Ethiopian Food Truck with overwhelming excitement and enthusiasm so far.  The Ethiopian Food Truck will be featured in some of Denver's premier summer festivals like Civic Center Eats, TheBigWonderful, The Denver International Festival.