Africa in the Rockies supports sustainable African products sold in a fair way – with the goal being for artisans to get as much of the profit from their goods as possible. It is unfortunate that many goods made in Africa are sold at a dramatic mark-up without much of the profit benefiting African artisans and workers.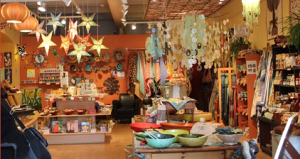 Below is a list of Colorado-based companies that sell African products in a fair way, aiming to empower the people who create the products. Do you have a business that sells sustainable African products? We'd love to hear from you. 
Zambeezi Lip Balm – Located in Boulder, Colorado, this lip balm is made with beeswax from Zambia and is fair-trade, with the workers who help create the product earning a fair wage. Additionally, the company's profits are used to benefit African communities.
Agile International  – Based in Boulder, Agile sells bags made by women in Mali. The profits are used to buy land, grow food and feed families. Agile empowers women by breaking the cycle of poverty that most women in West Africa face.
Yobel Market – Yobel Market sells products that empower artisans in 21 nations through fair wages and ethical employment. Be sure to check them out in Colorado Springs.  
Africa Bags. – Africa Bags are a non-profit organization that sells hand-crafted bags made in Malawi. Volunteers help market the bags in America. The profits from each sale are sent back to Malawi.
African Market Baskets – Based in Boulder Colorado, African Market Baskets creates handcrafted Bolga baskets in Ghana. Proceeds from the sale of the baskets provide healthcare, education and financial support to over 1,000 African villagers and their families.
Momentum – A boutique located at 1625 Pearl Street in Boulder, Colorado, that sells fair-trade items handmade by artisans from all over the world, including Africa.
Bead for Life – Based in Boulder, Bead for Life has created numerous 'Street Business Schools' that train business-savvy women in Africa living in poverty about how to run their own businesses, selling fair-trade beaded products to an international market.
Zimbo Arts Co-Op – Based in Fort Collins, Zimbo Arts strives to give Zimbabweans the education needed to lift themselves out of poverty. Through the development of Art Cooperatives, they create steady and stable employment for struggling families creating culturally traditional artworks. The art created in the Co-Ops is not only beautiful but helps fund a number of community programs around Zimbabwe.
Madagascar Hat Company – A nonprofit company that creates eco-friendly hats made from sustainable natural raffia. A portion of the sales is donated to Hope for Madagascar
Elephant Coffees – Based in Denver, Elephant Coffees is committed to promoting equitable, cooperative and sustainable practices. They source directly from producers and cooperatives in the highlands of Kenya and East Africa.
AuthorNatalie AberPosted onAugust 16, 2018CategoriesUncategorizedEdit"Where to Buy Sustainable African Products in Colorado"